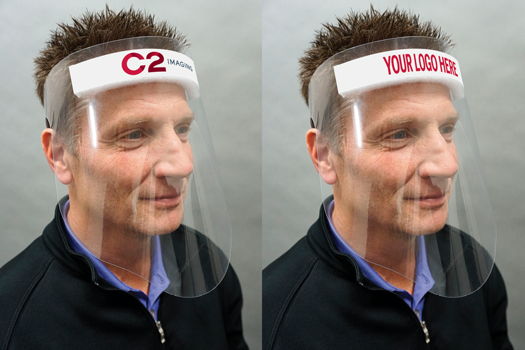 Plastic Face Shields for Healthcare Workers and Front Lines Workers
With shortages of protective gear, like face masks, C2 Imaging and our parent company has begun manufacturing disposable face shields for first responders and healthcare providers. We have shifted some of our production of print graphics to help the caregivers that are at the front lines of the COVID-19 pandemic, including doctors, nurses, and health care staff.
This disposable personal protection equipment (PPE) is made of durable plastic, contoured and light weight and one-size-fits all, helping to simplify inventory management. We're committed to doing everything we can to support our medical professionals and our citizens during this time.
Benefits of Plastic Face Shields
Full length
Lightweight and comfortable to wear, quick and easy to put on
Can be worn with or without glasses or goggles
Can be customized with a logo or design
Available with a .5", 1" or 1.5" foam band for comfort**
Where to Buy Face Shields?
Companies and organizations can contact us via the form below to inquire about ordering our disposable plastic face shields.
Click here to learn about other products C2 Imaging is producing to help customers during the coronavirus pandemic.
*In no event shall Vomela Specialty Company, C2 Imaging LLC or any of their affiliates, owners, officers, directors, employees or agent be liable to the buyer of this product or any third party for any indirect, incidental, consequential, special or punitive damages of any kind or nature arising out of or relating in any way to the manufacture, sale, delivery, resale, or use of this product, whether such liability is based in contract, tort, negligence, strict liability or otherwise, even if we had been warned of the possibility of any such damages. The user assumes all risks and is responsible for determining the suitability of the product for its intended use.
** Subject to availability