The average American adult now spends 3 hours and 43 minutes per day on mobile devices. It's not uncommon to see people staring at their smartphone screens as they walk, commute, or eat in cities around the country.
What does that mean for marketers? For starters, those people looking down while they walk, probably aren't seeing the advertisements placed along building walls and billboards. As people evolve, your marketing strategies also have to evolve. Savvy marketers are taking advantage of the ground beneath those screens and using floor graphics for maximum advertising impact and engagement.
Floor graphics can be simple or elaborate, and they don't cost a fortune to produce. But the effectiveness is unmatched, especially for marketers who place floor graphics in unexpected locations. With smart placement and creative designs, floor graphics can make a major impact.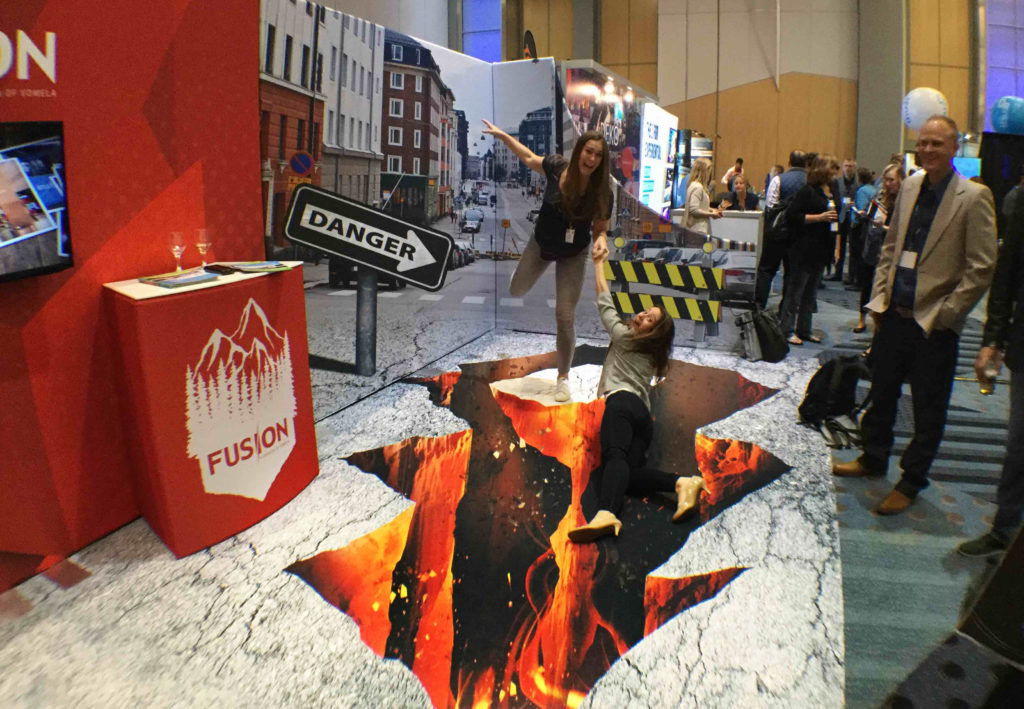 Where Are the Best Places for Floor Graphics?
To capture people's attention, floor graphics should be placed in areas with high traffic, and where people are likely to be looking down and around. Busy sidewalks, stairways and grocery store aisles are just some examples of popular places to affix floor graphics. Airports, office buildings, trade shows, and even busy city streets are all locations we've seen floor graphics placed.
Floor graphics can be placed inside or outside, on carpeting, tile, concrete, blacktop, and more, giving you maximum freedom and the ability to be as creative as possible when designing your campaigns.
Creative Ideas for Using Floor Graphics
Imagine walking along a city sidewalk, staring down at your cell phone, when all of a sudden you see a floor graphic that makes it look like there's a hole in the ground or a giant puddle. The classic depth perception trick is a great way to get people excited about an advertisement.
Another fun way to use floor graphics is to design them as maps or paths that guide people to a business, special display, or even a department within an office building or store. We often call this wayfinding. Think about paw prints that lead people down a sidewalk to a pet shop, or a "yellow brick road" that leads people to a display at a trade show.
Floor graphics are perfect for branding too, especially when you include your company's logo, a hashtag, slogan, or an inspirational quote that further drives home your message and branding.
The more engaging or unexpected your floor graphic is, the greater the chance is that people will share a photo of it on social media and tell others about it. That spurs the kind of viral marketing you want.
To learn even more about how to maximize engagement with floor graphics, contact C2 Imaging.
Categories
GET YOUR PROJECT STARTED TODAY!
Contact us for questions or a quote.
FIND WHAT YOU'RE LOOKING FOR?
Contact us, we'd love to help.