What if you could get a lifetime's worth of impressions for your company's marketing efforts with just one item? Promotional products can give you that. According to AMA.org, about 18% of consumers keep promotional items for more than 10 years with the average at more than 12 months. If you haven't previously considered promotional items, let's explore how to use them and how they fit into a sales and marketing strategy.
Let's start with the basics
Promotional products are branded merchandise that are given away for free by companies to garner interest and promote their brand. They are usually measured through impressions (number of times someone will view the product) over the product's lifetime. The goal is to increase brand awareness and get prospects to choose you over your competitors.
How and when to use promotional products
The ways to use promotional products varies. It could be a customer welcome kit, a product launch, event, or a giveaway. Internally, they can be used for branding, communicating values and culture, or to show employees they are valued and important. Externally, they can be used for increasing brand awareness and gaining new customers.
Picking the right product
Choosing the right promotional product depends on the audience and environment the item might be used in, like in a corporation or restaurant setting. The number one characteristic to consider is practicality. We suggest staying away from trends and choosing useful items like a pen or journal that people will keep rather than toss. You want your consumers to keep and use your product for as long as possible. It may sound basic, but it's tried and true.
Align the product with the wants and needs of your audience. Ask, "Is this item adding extra value for the client?" Learning about your target audience like age and interests will help achieve their goal. Secondly, think about your budget. It should be cost-effective with the best ROI. Lastly, narrow down your options to meet the criteria that is beneficial for both your brand and the consumer. Your option should have quality, appeal, and a high perceived value. Sometimes, a client will already have an item in mind, and that's fine too.
Here's a list of possible promotional products:
• Drinkware
• Barware
• Blankets
• Bags
• Computer accessories, like webcam covers
• Wearables, like sunglasses and shirts
• Microfiber items
• Hand sanitizer and sterilization tools
• Acrylic service awards or trophies?
• Lanyards
• Gators and masks
• Writing implements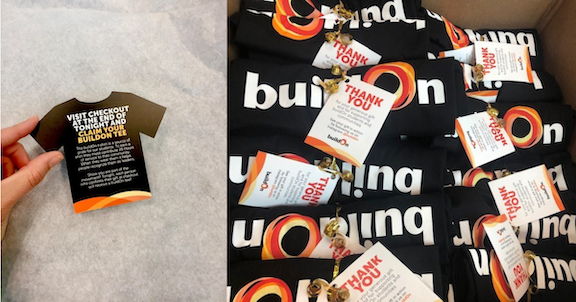 The name of the game is branding
Your audience will know you for this item, so make sure it is on point. "According to an ASI (Advertising Specialty Institute) case study from 2019, branded merchandise can still impress consumers. The study showed that they are almost 2.5 times more likely to think positively about tangible branded products than the ads." (Forbes.com)
Use your branding to extend to influencer marketing. Create selfie opportunities to share on social or promote a cause with a hashtag and watch it go viral.
Deploy with your sales and marketing strategy
When thinking about your sales and marketing strategy, it's important to define your goal and choose wisely to reach the right audience. Win over your audience with items that speak to them, so they continue to buy from you and refer you to their friends. Influence consumer behavior by first making them aware of your brand, then converting them to customers.
So, what are the benefits?
With the right branded item, it will lead your audience to consider your brand and increase sales. Promotional products allow companies to get impressions with a low cost, while augmenting marketing, sales, and customer retention. It promotes brand awareness, company culture, customer appreciation, product awareness, loyalty and retention, and ultimately driving sales and referrals.
Promotional products have been around in the U.S. since the late 1800s. (This is a fun fact – is there an example of this? Could maybe use for the intro?) Post-COVID and with events coming back in full-force, we are seeing a resurgence in their use. Interested in using promotional products for your company? Contact us now [link] and we can help get you started.
Interested in promotional products? Contact us today to get started.

Categories
GET YOUR PROJECT STARTED TODAY!
Contact us for questions or a quote.
FIND WHAT YOU'RE LOOKING FOR?
Contact us, we'd love to help.