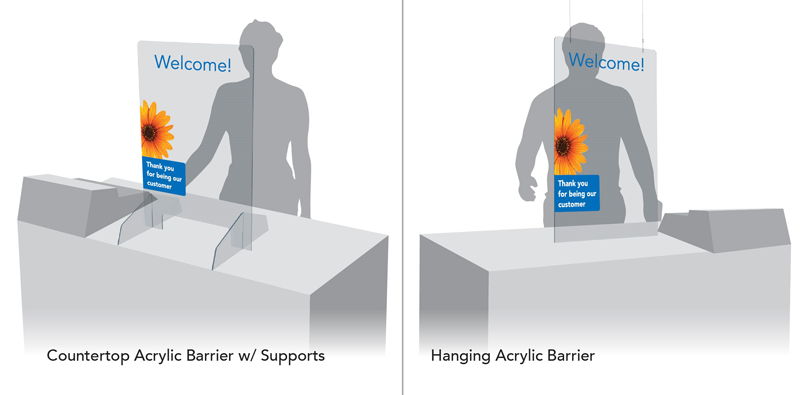 Sneeze Guards for Desks and Counters
Sneeze guards are made of a hard clear material, often acrylic, that can easily be cleaned and sanitized. These sneeze shields help provide protection for employees in customer-facing situations such as at grocery store check-outs, desks, clinics, bank teller counters, restaurants and more. They also provide protection and ease of mind for customers worried about contacting the coronavirus. These barriers prevent germs from reaching beyond the clear acrylic.
Sneeze Shields for Sale
Freestanding sneeze guards
Countertop sneeze guard
Hanging sneeze guard
Temporary and portable sneeze guard
Permanent sneeze shield
Additionally, they can be customized with your logo, a safety message or branded design. More benefits are that these shields are durable, come in many different sizes, are lightweight, impact resistant and can be installed by employees.
Where to buy sneeze guards?
Companies and organizations can contact us via the form below to inquire about ordering our protective barriers.
Click here to learn about our other safety signage solutions.
*In no event shall Vomela Specialty Company, C2 Imaging LLC or any of their affiliates, owners, officers, directors, employees or agent be liable to the buyer of this product or any third party for any indirect, incidental, consequential, special or punitive damages of any kind or nature arising out of or relating in any way to the manufacture, sale, delivery, resale, or use of this product, whether such liability is based in contract, tort, negligence, strict liability or otherwise, even if we had been warned of the possibility of any such damages. The user assumes all risks and is responsible for determining the suitability of the product for its intended use.