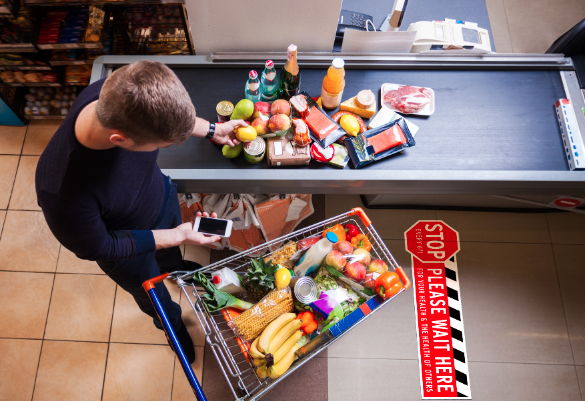 Social Distancing Floor Graphics
The guidelines for social distancing - staying six-feet apart – will help slow the spread of COVID-19. This is creating some challenges for essential businesses who continue to provide face-to-face service to customers. We are producing social distancing signage for retailers. Whether customers are waiting in line at the grocery store, the bank, the pharmacy, or for restaurant take out, these floor graphics help their overall experience while providing precise spacing through directional signage.
Floor graphics need to be tough enough to withstand traffic while providing the right information. Graphics, such as adhesive decals, 3D applications, printable carpet, or floor mat graphics, are made from scratch, scuff, and slip resistant materials, while also holding up to commonly used cleaning solutions.
Other Social Distancing Signage Solutions
As a premier printing company, we offer many other solutions to help you communicate social distancing guidelines. From wall signs to banner stands, A-frames and everything in between, we have you covered.
This is new for most people and we are all adjusting. Many customers may not even realize they are not providing enough space between themselves and others. Social distancing signage and floor graphics can help them understand.
Where to Buy Social Distancing Signs?
Companies and organizations can contact us via the form below to inquire about ordering our signage solutions to communicate social distancing.

Click here to learn about other products C2 Imaging is producing to help customers during the coronavirus pandemic.