Look down! Floors are an oft-forgotten space that can be used for marketing and advertising to make a big impact. But it's more than that—they offer an opportunity to amplify unused space, impressing your audience in an unconventional way. Read below for five key benefits of floor graphics.
Communicate Your Brand
Floor graphics showcase your brand by reinforcing marketing messages that aren't on walls or at eye level like more traditional advertising. They make your brand memorable, helping customers remember who you are and immediately know what you stand for.
They are also a great tool to communicate messaging to your employees or customers. For real estate offices, floor graphics showing location details can highlight what the area has to offer for potential customers. Fun floor graphics are also a great way to engage employees as they return to working in the office. Use floor graphics to communicate everything from safety tips, flu shot information, and 401k plan enrollment notices, or be used to direct people towards specific products or the front door or bathrooms.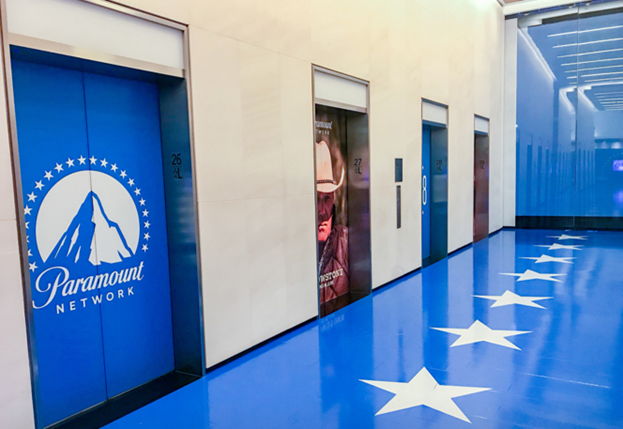 Promote Your Products and Events
Need a unique way to feature products or events? Floor graphics offer visual merchandising that informs customers about product features, while providing a more engaging experience and higher satisfaction with your brand. Short-term floor graphics are ideal for switching up your message regularly (for special events or promotions), but can also be used for permanent applications in many spaces including grocery stores, quick serve restaurants, and retail settings.
Made for Wayfinding
Floor graphics help direct people to specific areas in the store, draw attention to new products, and label entrances and exits so customers traverse your space the way you intended. In your event space, store, hospital, or restaurant, providing effective directions and directional messaging will make their experience easy and seamless. Don't forget floor graphics when you are considering wayfinding for your space.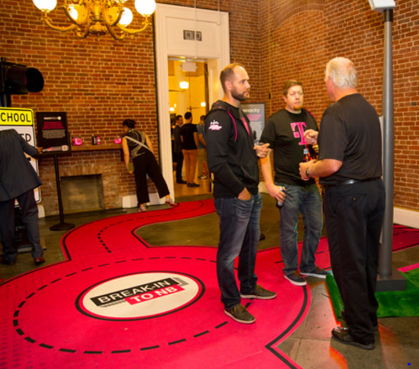 Space Saving and Cost Effective
Since they are flat, floor graphics take up less space than traditional signage like banners and A-frame signs, and don't get in the way of foot traffic. Durable and hard to damage, they withstand foot traffic while maintaining a vibrant image. Depending on the application, the floor graphics should not scratch, scuff, and will hold up to regular cleaning. Once installed they require no maintenance, helping reduce cost. Afterwards, they are easy to remove and replace with minimal clean up.
Versatile and Customizable
Completely customize your floor graphics in any design you can imagine, on almost any surface. Think outside the box with applications on concrete and outdoor surfaces, stairs, and even carpet. There are many options to choose from, including:
Outdoor – Extend your branding to curbside pickup, BOPIS, exterior graphics and outdoor events
Floor mats – Great way to share messaging for restaurants
Stair applications – Make wayfinding impactful at events
Printable carpet – Perfect for tradeshows to draw attention to your booth
Adhesive decals – Short term promotional campaigns highlight your product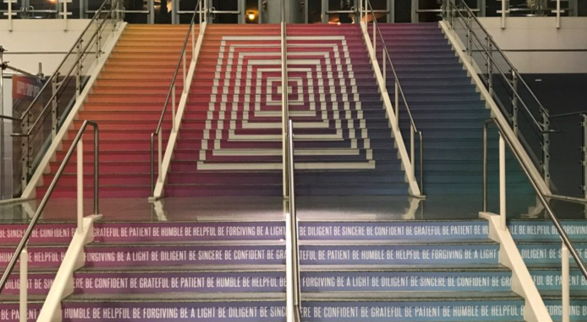 Think about how your space could use floor graphics—is there any floor space that could be a messaging opportunity? Bottomline, these benefits increase sales and revenue while promoting your brand identity through custom-to-you graphics.
Interested in floor graphics for your space? Contact us today to get started.

Categories
GET YOUR PROJECT STARTED TODAY!
Contact us for questions or a quote.
FIND WHAT YOU'RE LOOKING FOR?
Contact us, we'd love to help.